New and Revised Publications
Native Aquatic and Wetland Plants: Duck Potato, Sagittaria lancifolia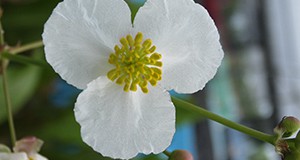 This 3-page fact sheet discusses the classification, description, habitat, propagation, and uses of duck potato, an aquatic perennial that typically grows in swampy ground or standing water in ponds, lakes, streams, and ditches and usually blooms in the spring. Written by Kimberly A. Moore, Luci E. Fisher, Carl J. Della Torre III, and Lyn A. Gettys, and published by the UF Department of Agronomy, December 2015.
http://edis.ifas.ufl.edu/ag403
Native Aquatic and Wetland Plants: Cardinal Flower, Lobelia cardinalis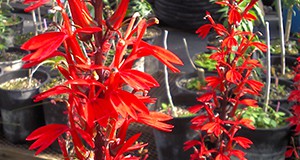 This 3-page fact sheet discusses the classification, description, habitat, propagation, and use of cardinal flower, an aquatic perennial that is commonly found in stream banks and swamps. Written by Kimberly A. Moore, Luci E. Fisher, Carl J. Della Torre III, and Lyn A. Gettys, and published by the UF Department of Agronomy, December 2015.
http://edis.ifas.ufl.edu/ag402
Native Aquatic and Wetland Plants: Blue-Eyed Grass, Sisyrinchium angustifolium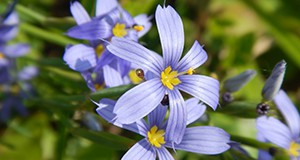 This 2-page fact sheet discusses the classification, description, habitat, propagation, and uses of blue-eyed grass, an aquatic perennial native to Florida. Written by Kimberly A. Moore, Luci E. Fisher, Carl J. Della Torre III, and Lyn A. Gettys, and published by the UF Department of Agronomy, December 2015.
http://edis.ifas.ufl.edu/ag401
Why We Should Be Concerned about Methicillin-Resistant Staphylococcus aureus (MRSA)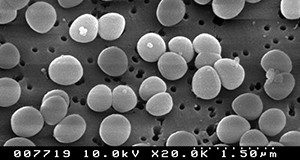 Treatment and complete resolution of MRSA infections can be extremely challenging, since many MRSA strains are multidrug-resistant. This 6-page fact sheet provides an overview of MRSA, different strains, risk factors, symptoms, prevention, and the pathogen's effects on human health and agriculture. Written by Austin B. Mogen and Kelly C. Rice, and published by the UF Department of Microbiology and Cell Science, September 2015.
http://edis.ifas.ufl.edu/mb006
Breast Cancer: Preparing for Surgery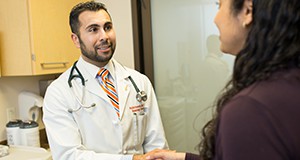 Once you and your doctor schedule your breast cancer surgery, you may have additional questions about how you can prepare for your operation. This 5-page fact sheet provides information to help you get ready for breast cancer surgery through a brief overview of common surgical options, medical appointments, social support systems, and standard surgical procedures as well as reactions and memories of women who have gone through this experience. Written by Martha C. Monroe and Barbara F. Shea, and published by the UF Department of Family, Youth and Community Sciences. Revised February 2016.
http://edis.ifas.ufl.edu/fy899
Postharvest Storage, Packaging and Handling of Specialty Crops: A Guide for Florida Small Farm Producers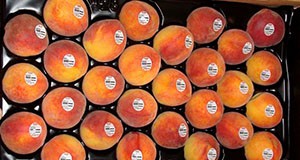 Every year farmers must harvest their crops. This process marks the end of the growing season and carries social significance in communities, but it also creates challenges for producers trying to deliver fresh, high-quality produce to market. Good postharvest practices establish appropriate cold chains that maintain the correct temperatures, humidity, and respiration rates while also ensuring the safety, sanitation,and quality of the fruits. These postharvest practices differ, depending on the size and economic situation of an operation. This eighteen-page fact sheet provides postharvest storage, packaging, and handling recommendations for small farm specialty crop producers. Written by Jonathan Adam Watson, Danielle Treadwell, Steven A. Sargent, Jeffrey K. Brecht, and William Pelletier, and published by the Horticultural Sciences Department.
http://edis.ifas.ufl.edu/hs1270
Ocho Pasos para Desarrollar un Plan Simple de Mercadeo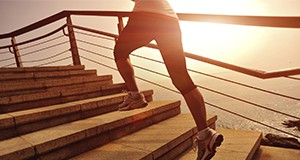 El mercadeo es parte esencial de un negocio. De hecho es el corazón de cualquier negocio que sirva la función vital de convertir actividades de producción en desempeño financiero, asegurando la supervivencia del negocio. El mercadeo es clave, sin importar el tipo de negocio (incluyendo la agricultura).
This 5-page fact sheet provides a rationale for developing a marketing plan, a step-by-step process for creating one, and a marketing plan worksheet. Written by Edward A. Evans and Fredy H. Ballen, and published by the UF Department of Food and Resource Economics. Translated into Spanish November 2015. (Photo credit: Thinkstock)
http://edis.ifas.ufl.edu/fe978
(also available in English as "Eight Steps to Developing a Simple Marketing Plan" at http://edis.ifas.ufl.edu/fe967)
Weed Control for Ornamentals inside Greenhouses and Other Enclosed Structures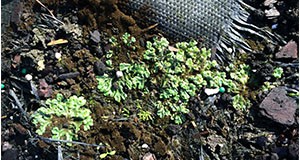 Maintaining a weed-free greenhouse is important for producing healthy and marketable crops. Weeds will compete with crops for water, light, and nutrients. Weeds can find favorable conditions for growth in gravel and along edges, tears, and worn areas of ground cloth. It is important to frequently scout for weeds. This five-page fact sheet describes both chemical methods of controlling weeds, but also non-chemical methods, such as sanitation and prevention, hand weeding, and cultural control practices. Written by Chris Marble and Jeremy Pickens, and published by the Environmental Horticulture Department.
http://edis.ifas.ufl.edu/ep528
Zika, a Mosquito-Transmitted Virus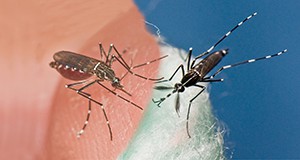 Zika is a mosquito-transmitted virus that has spread broadly in tropical regions and caused epidemics, especially in the past 8 to 9 years. In its native range in West Africa and Uganda, the Zika virus stays in the forest for the most part, and human infections are considered incidental and medically inconsequential. In 2015, however, Zika became a larger concern when a strain of the virus traced to outbreaks in French Polynesia emerged in northeastern Brazil. This strain provoked alarm because of increased incidence of microcephaly in babies born to Zika-infected mothers. Local transmission, mainly by the yellow fever mosquito Aedes aegypti, has now been documented in most tropical countries of the Americas but has not yet been detected in the continental United States. This 7-page fact sheet written by L. P. Lounibos, B. W. Alto, N. D. Burkett-Cadena, C. C. Lord, C. T. Smartt, C. R. Connelly, and J. R. Rey and published by the Department of Entomology and Nematology describes the Zika microbe, its mosquito hosts, and the disease it causes. A history of the virus and its migration are included, along with some details about the virus in the state of Florida and preventative measures people can take to avoid infection. The best way to avoid contracting Zika (and other mosquito-borne diseases) is not to get bitten in the first place. Take precautions to avoid mosquito bites.
http://edis.ifas.ufl.edu/in1120
See also 2/9/2016 press release:UF/IFAS scientists write document explaining Zika virus; urge vigilance.
Do-It-Yourself Insect Pest Traps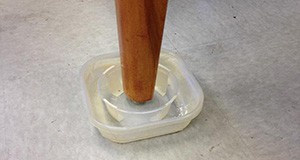 Many types of traps can be used to monitor or control insect pests. Traps to capture insects vary greatly, depending on the target, location, and purpose. Traps may be inexpensive and disposable, or more complex. This 12-page fact sheet describes several traps for common pests in the home, garden, and landscape that can be made using common household materials or that are readily available in stores. Written by Steven Arthurs and Adrian Hunsberger and published by the Entomology and Nematology Department.
http://edis.ifas.ufl.edu/in1103
El Zika, un Virus Transmitido por Mosquitos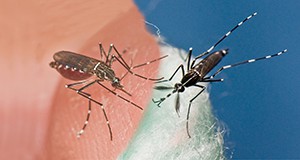 Zika es un virus transmitido por mosquitos que se ha esparcido recientemente en regiones tropicales y ha causado epidemias, especialmente durante los últimos 8 o 9 años. En su ámbito nativo en África Occidental y Uganda, el virus se mantiene en los bosques, circulando entre mosquitos que viven en huecos de árboles y primates arbóreos; las infecciones de humanos se consideran incidentales y de poca importancia médica. Una cepa del virus que se implicó en brotes en Polinesia Francesa emergió en el Norte de Brasil en el 2015 y causó gran consternación debido a la alta incidencia de microcefalia en bebes nacidos de madres que fueron infectadas con el virus durante la gestación. Transmisión local, principalmente por el mosquito de la fiebre amarilla Aedes aegypti, ha sido documentada en la mayoría de los países tropicales de las Américas, pero aún no se ha detectado en Los Estados Unidos Continentales. Los síntomas de la infección incluyen, salpullido, dolor de cabeza, fiebre, dolor muscular y en las coyunturas, conjuntivitis, y malestar general.
This 7-page fact sheet written by J. R. Rey, L. P. Lounibos, B. W. Alto, N. D. Burkett-Cadena, C. C. Lord, C. T. Smartt, and C. R. Connelly and published by the Department of Entomology and Nematology is the Spanish language version of Zika, a Mosquito-Transmitted Virus and describes the Zika microbe, its mosquito hosts, and the disease it causes. A history of the virus and its migration are included, along with some details about the virus in the state of Florida and preventative measures people can take to avoid infection. The best way to avoid contracting Zika (and other mosquito-borne diseases) is not to get bitten in the first place. Take precautions to avoid mosquito bites.
http://edis.ifas.ufl.edu/in1121
Landscape Design Software: Evaluation and Recommendations for Homeowners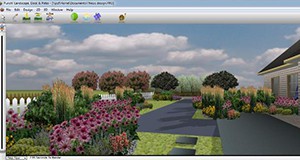 Homeowners who are computer literate and want to improve their landscapes often consider purchasing software so that they can create the design themselves and save money. To help you select a program from the dozens that are available, each with different levels of cost and difficulty, UF/IFAS scientists tested seven popular do-it-yourself programs, compared them to a professional landscape design software program, and rated them for quality of features and ease-of-use. This 9-page fact sheet written by Gail Hansen, Smith Watkins, and Sydney Park Brown and published by the Department of Environmental Horticulture will help you estimate costs, ensure compatibility with your Windows-based or Apple-based operating system, and compare reviews from consumer websites so that you can choose the software that best fits your needs.
edis.ifas.ufl.edu/ep526
Writing Instructional Objectives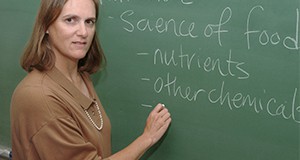 Good teaching begins with well-written instructional objectives. Instructional objectives identify the knowledge, skills, and abilities that students will possess upon successfully learning the material. This four-page fact sheet outlines the three types of objectives (cognitive, psychomotor, and affective) as well as the different components of objectives (condition, performance, criterion). A well-written instructional objective will lead to clear teaching and ultimately, student success. Written by R. Kirby Barrick and Andrew C. Thoron, and published by the Agricultural Education and Communication Department.
http://edis.ifas.ufl.edu/wc245
Teaching Behavior and Student Achievement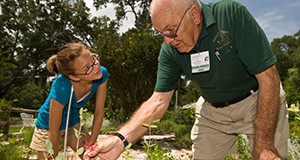 Student achievement can clearly be enhanced through effective teaching behaviors, but what kinds of teacher behaviors lead to higher achievement among learners? This six-page fact sheet describes five different teacher behaviors that can lead to higher student achievement. These behaviors are clarity, variability, Enthusiasm, task oriented and/or businesslike behavior, and student opportunity to learn criterion material. Written by R. Kirby Barrick and Andrew C. Thoron, and published by the Agricultural Education and Communication Department.
http://edis.ifas.ufl.edu/wc244
Principles of Teaching and Learning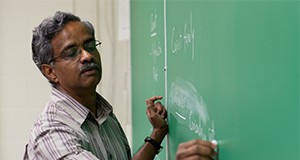 Effective teaching involves careful consideration and planning. There are several different principles that can be used to guide teachers in planning their lessons. This two-page fact sheet provides information on how to organize and structure subject matter, motivate students, effectively use reward and reinforcement, and other techniques for instruction. Written by R. Kirby Barrick and Andrew C. Thoron, and published by the Agricultural Education and Communication Department.
http://edis.ifas.ufl.edu/wc243
Principles and Practices to Secure and Hold Interest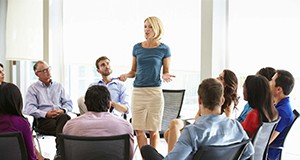 Securing and holding student interest is a major challenge for teachers. Once the curriculum is set, then teachers must decide how to teach the content, particularly how to build lasting interest in the content being taught. Students learn more and retain what they have learned longer when they are interested in the content, see its usefulness, and are motivated to learn and apply what they have learned. This three-page fact sheet discusses what makes a topic or lecture interesting for students and ways to improve teaching methods to keep students engaged and interested in the subject matter. Written by R. Kirby Barrick and Andrew C. Thoron, and published by the Agricultural Education and Communication Department.
http://edis.ifas.ufl.edu/wc242
Safe Harbor Agreement: A Regulatory Assurance under the Endangered Species Act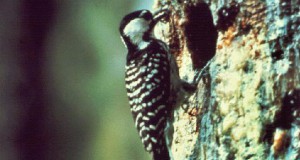 The involvement of the private sector is critical for the conservation and recovery of many species, but landowners' fears that increased management restrictions could keep them from enjoying their land can present a challenge to securing their trust and assistance in conservation efforts. A Safe Harbor Agreement is a regulatory assurance that removes the risk of additional regulation in the future and encourages landowners to maintain important habitat on their lands. This three-page publication written by Melissa M. Kreye, Elizabeth F. Pienaar, Raoul K. Boughton, and Lindsey Wiggins and published by the Wildlife Ecology and Conservation Department provides Extension agents, decision-makers, and landowners with a basic understanding of a landowner's obligations and the benefits of enrolling.
http://edis.ifas.ufl.edu/uw403
Pureed Foods: Texture Testing with the Slump Test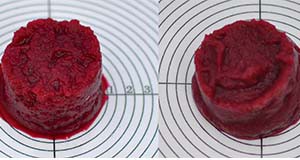 For individuals with dysphagia, the texture of puréed foods is extremely important. If the puréed foods are either too thick or too thin, it can make it more difficult to swallow. The slump test is a quick, easy, and inexpensive way to assess the texture of foods. This four-page fact sheet describes the slump test, how to perform a slump test, and how the slump test can be used to evaluate the texture of puréed foods. Written by Wendy J. Dahl, and published by the Food Science and Human Nutrition Department.
http://edis.ifas.ufl.edu/fs276
Teaching Students with Disabilities: Autism Spectrum Disorder and Asperger's Syndrome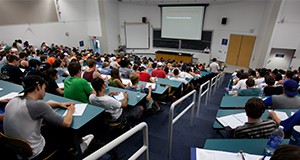 Teachers of all subjects must familiarize themselves with the specific needs of the students in their classrooms, especially in the case of students with autism spectrum disorders (ASD) and Asperger's syndrome because students may vary greatly in the degree to which they are affected by these disabilities. This four-page fact sheet explains the differences between autism and Asperger's syndrome and how instructors can modify their lessons to effectively meet the needs of learners with these disabilities in different types of learning environments and achieve greater classroom success for the educator and the learner. Written by Sara E. LaRose and Andrew C. Thoron, and published by the Agricultural Education and Communication Department.
http://edis.ifas.ufl.edu/wc240
Making Decisions Using Force Field Analysis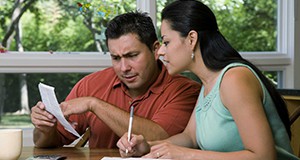 Should I adopt water conservation practices? Should I start a community garden? Should I stop using fertilizer on my lawn? These kinds of complex decisions are often difficult because many factors are at play, each with different degrees of importance. Conducting a force field analysis is a simple technique that can help an individual or groups more effectively make decisions and also more holistically consider key factors. Force field analysis allows you to make decisions based on the idea that a point of equilibrium exists within any system. Any proposed change causes a shift in this equilibrium. This four-page fact sheet describes how to conduct a force field analysis, provides a relevant example, and suggests possible applications. Written by Seth Heinert and Sebastian Galindo-Gonzalez, and published by the Agricultural Education and Communication Department.
http://edis.ifas.ufl.edu/wc224
What is EDIS?
EDIS is the Electronic Data Information Source of UF/IFAS Extension, a collection of information on topics relevant to you. More...
Author information
Additional IFAS Sites
Follow UF/IFAS on social media