New and Revised Publications
Carinata, the Jet Fuel Cover Crop: 2016 Production Recommendations for the Southeastern United States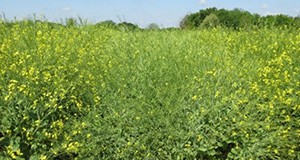 Carinata has been grown commercially for several years on the Canadian prairie and more recently in the US northern plains as a summer crop. For the past four years, UF has been conducting research to evaluate various management practices that allow incorporation of carinata into current cropping systems as a winter crop with minimal modification to existing infrastructure in the southeastern US. This 8-page fact sheet is a major revision that discusses carinata characteristics, biology, nutrient management, tillage, variety selection, planting dates, seeding depth, seeding rate, row spacing, weed management, disease management, insect management, harvest management, economics, and crop insurance. Written by Ramdeo Seepaul, Christine M. Bliss, David L. Wright, Jim J. Marois, Ramon G. Leon, Nicholas Dufault, Sheeja George, and Steve M. Olson, and published by the UF Agronomy Department, December 2014. Revised October 2015.
http://edis.ifas.ufl.edu/ag389
Guide to Olive Tree Nutrition in Florida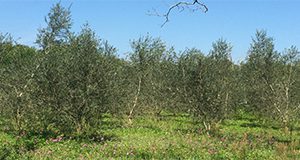 A burgeoning olive industry already exists in the southeastern United States, but research and Extension information regarding olive fertilization recommendations in Florida is limited. While there are data and recommendations for olive from the University of California, the University of Georgia (UGA), and other institutions around the world, there are no data from which we can derive Florida-specific recommendations. This 6-page fact sheet uses many of the existing recommendations for mature, high-density, and traditional grove spacing as guidelines until data specific to Florida production are generated. It discusses leaf tissue sampling procedures, leaf tissue sufficiency ranges, nitrogen fertility, phosphorus and potassium fertility, boron, concerns for olive production in Florida, and other resources for olive production in the state. Written by Michael J. Mulvaney, Rao Mylavarapu, Peter C. Andersen, Mack Thetford, and Jennifer L. Gillett-Kaufman, and published by the UF Agronomy Department, May 2016.
http://edis.ifas.ufl.edu/ag405
Pest identification Guide: Florida flower thrips Frankliniella bispinosa (Morgan)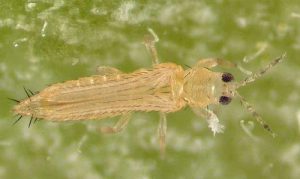 The Florida flower thrips is a known pest of blueberry but its status in other crops is unclear. Florida flower thrips transmits Tomato spotted wilt virus and possibly other tospoviruses. This species is primarily a flower feeder, so most damage would be expected on the flower or fruit. Learn to identify the Florida flower thrips with this two-page illustrated guide written by Jeffrey D. Cluever and Hugh A. Smith and published by the Department of Entomology and Nematology.
edis.ifas.ufl.edu/in1125
Zika Vector Control for the Urban Pest Management Industry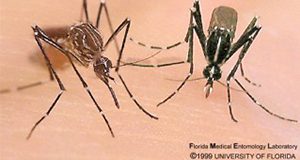 Zika is a mosquito-transmitted virus that has recently spread to the Americas. Zika virus (ZIKV) was discovered in 1946 in Africa where it was isolated from a Rhesus monkey in the Zika forest of Uganda. In 2007, a disease outbreak occurred on the Yap islands in Micronesia, and in 2013, an outbreak occurred in French Polynesia. In 2015, a large outbreak occurred in Brazil, and ZIKV has since spread through the Americas. As of April 18, 2016, 15 counties in the state of Florida had reported travel-associated Zika cases. This seven-page fact sheet provides an overview of ZIKV, including its incidence and distribution, transmission and symptoms, and the connection between zika virus and infant microcephaly. This article also explains the biology and identification of the mosquito that vectors the virus with a focus on how to manage the vector using inspection, larviciding, adulticiding, monitoring, and personal protective equipment. Written by Casey Parker, Roxanne Connelly, Dale Dubberly, Roberto Pereira, and Philip Koehler and published by the Entomology and Nematology Department.
http://edis.ifas.ufl.edu/in1131
Muestreo por Golpeo para el Psilido Asiatico de los Citricos (PAC). Hoja de campo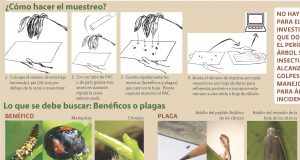 This field sheet provides information on Tap sampling for Asian Citrus Psyllid (ACP). Monitoring ACP populations is an important tool in the integrated management of citrus greening. The most efficient way to estimate field populations of this insect is by monitoring adults. Tap sampling has proven to provide data needed to make informed decisions for managing this insect pest. This two-page field sheet is the Spanish version of IN1116 TAP Sampling for Asian Citrus Psyllid (ACP) Field Sheet. Written by Phil Stansly, and published by the Entomology and Nematology Department.
http://edis.ifas.ufl.edu/in1122
Spiderwort Control in Hay Fields and Pastures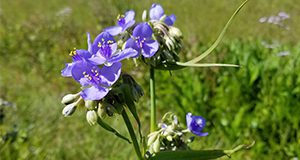 Spiderwort is a native perennial species found throughout the eastern half of the US. The plant's large, fleshy stem creates problems for hay production. This 2-page fact sheet provides a brief overview of the plant as well as information on control through herbicide use. Written by Michael Durham, Jason Ferrell, and Brent Sellers, and published by the UF Agronomy Department, May 2016.
http://edis.ifas.ufl.edu/ag407
Pest Identification Guide: Chilli thrips Scirtothrips dorsalis Hood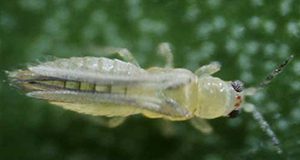 Chilli thrips transmits the ilarvirus Tobacco streak virus (TSV) and the tospoviruses Groundnut bud necrosis virus (GBNV), Groundnut chlorotic fan-spot virus (GCSFV), and Groundnut yellow spot virus (GYSV). This species primarily feeds on young, tender foliage. Feeding on foliage may result in silvering leading to necrosis, leaf curl (upward), distortion, and defoliation. Feeding on the fruit may cause scarring, discoloration, and the formation of corky texture on the fruit. Learn to identify the chilli thrips with this two-page illustrated guide written by Jeffrey D. Cluever and Hugh A. Smith and published by the Department of Entomology and Nematology.
http://edis.ifas.ufl.edu/in1124
Metsulfuron-Methyl-Containing Herbicides Potentially Damaging Ornamentals when Applied to Turfgrass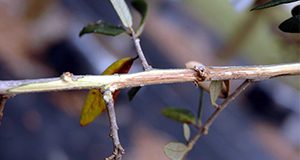 Metsulfuron-methyl, also known as MSM, is an herbicide that is used to control broadleaf weeds and certain grass weeds. It provides effective control of some of the most problematic turfgrass weeds, such as wild garlic, Florida betony, dollar weed, and small Virginia buttonweed. Metsulfuron-methyl is absorbed by plant foliage, so if landscape plants come into contact with the spray or drift they can be injured. This four-page fact sheet describes the potential problems with metsulfuron herbicides, the areas most subsceptible to damage, how to diagnose injury, and how to reduce damage. Written by Chris Marble, Jason Smith, Timothy K. Broschat, Adam Black, Ed Gilman, and Celeste White and published by the School of Forest Resources and Conservation Department.
http://edis.ifas.ufl.edu/fr400
Pond Apple: A Tree Species Adapted to Salt Stresses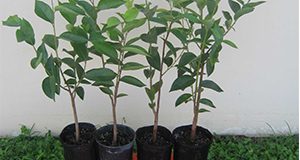 Soil salinity is a naturally ocurring problem for growers, gardeners, and homeowners in Florida. As sea-levels rise, seawater intrusion causes salt stress to plants grown in coastal lowland areas. This three-page fact sheet introduces a salt-tolerant species, pond apple (Annona glabra L.), which has great potential to be used in high-salinity coastal landscapes. Written by Guodong Liu, Yuncong Li, Kimberly Moore, and Kim Gabel and published by the Horticultural Sciences Department.
http://edis.ifas.ufl.edu/hs1281
Temporary Food Plot Deterrents for Deer: Do They Work?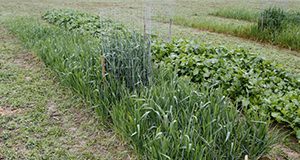 Many Floridians enjoy the opportunity to hunt, watch, or photograph white-tailed deer. Hunters and landowners often plant cool season forage plots both to attract wildlife and to provide a dependable food source. But where there is a high deer population or scarce food resources, deer may forage on food plots as soon as the plants emerge and before they become established. This fact sheet presents the results of research conducted at the UF/IFAS North Florida Research and Education Center in Quincy into the effectiveness of various strategies hunters and landowners can use to temporarily limit access to new food plots until the plants are well established and strong enough to attract and sustain hungry deer through the winter. Written by Holly Ober, Cheryl Mackowiak, and Ann Blount and published by the UF/IFAS Department of Wildlife Ecology and Conservation.
http://edis.ifas.ufl.edu/uw410
Understanding Ag Awareness Programming throughout UF/IFAS Extension: Supporting Citizen Awareness of Food Systems and the Environment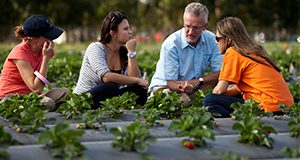 Florida Extension agents around the state are working to increase public agricultural awareness (Ag Awareness). This five-page fact sheet outlines FLorida's recent Extension efforts in agricultural awareness and highlight future directions to coordinate and strengthen this work, offering ideas for best practices while avoiding unnecessary duplication. Written by Joy N. Rumble, Kathryn A. Stofer, and Libbie Johnson and published by the Department of Agricultural Education and Communication.
http://edis.ifas.ufl.edu/wc168
Starting a Community Garden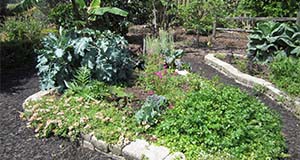 A community garden is a great way to unite a group of people in a common goal. In addition to providing fresh herbs, vegetables, and fruit, community gardens can also increase self-esteem, beautify a neighborhood, and create and opportunity for socializing and improving health. This four-page fact sheet outlines the importance of community gardens and how to develop and manage a community garden. Written by Adrian Hunsberger, Eva C. Worden, and John McLaughlin, and published by the Environmental Horticulture Department.
http://edis.ifas.ufl.edu/ep124
Insect Pest Management on Turfgrass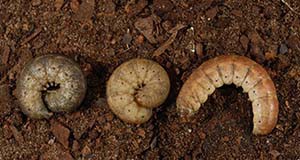 Turfgrass is grown in many environments and for different uses, including home lawns, parks, athletic fields, cemeteries, golf courses, sod farms, pastures, and right-of-ways. The intensity of turfgrass insect management largely depends on the turf species, variety, and its intended use. This eighteen-page fact sheet describes how to manage a variety of insect pests including armyworms, bermudagrass mite, cutworms, fire ants, ground pearls, hunting billbug, mole crickets, scales/mealybugs, southern chinch bug, twolined spittlebugs, tropical sod webworm, and white grubs. Written by Eileen A. Buss and Adam G. Dale, and published by the Entomology and Nematology Department.

http://edis.ifas.ufl.edu/ig001
Management of Cucurbit Downy Mildew in Florida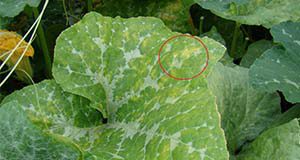 Cucurbit downy mildew is a major disase that affects over 40 species of cucurbits, like watermelon, muskmelon, cucumber, squash, and pumpkin. The classic sign of the disease is the presence of dark sporangia, a structure that holds developing spores, on the underside of infected leaves. As the disease progresses, it may lead to large necrotic areas that cause defoliation and a reduction of yield and marketable fruit. This nine-page fact sheet describes the symptoms and signs, epidemiology and disease cycle, host range and pathotypes, and the ways to manage cucurbit downy mildew. Written by Mason J. Newark, Mathews L. Paret, Nicholas S. Dufault, Pamela D. Roberts, Shouan Zhang, Gary E. Vallad, Josh Freeman, and Gene McAvoy, and published by the Plant Pathology Department.
http://edis.ifas.ufl.edu/pp325
How the General Public and Local Officials Prefer to Learn about Agricultural Water Use in Florida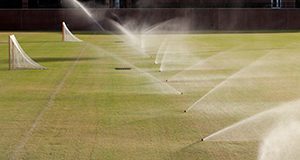 Water is a precious resource that is invaluable to the state of Florida. The amount of water being used daily in the state is estimated at 14.3 million gallons. Part of a series dedicated to describing the preferred ways of learning about agricultural water use in Florida, this study can be used to assist Extension educators and the agricultural industry at large in the development of strategies meant to inform people about the realities of water use. This three-page fact sheet helps Extension educators understand preferred learning mediums so they can provide useful information about agricultural water use. Written by Courtney T. Owens, Alexa J. Lamm, and Ricky W. Telg and published by the Agricultural Education and Communication Department.
http://edis.ifas.ufl.edu/wc247
Landscape Integrated Pest Management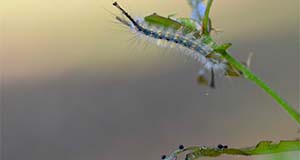 Every landscape manager has a pest management toolbox, which contains tools that represent different management strategies. People can be quick to use pesticides, but an integrated approach using multiple tools can be much safer, have longer lasting beneficial effects, and in some cases cut costs. This 5-page fact sheet will help Extension agents and specialists, lawn and landscape managers, Florida Master Gardeners, and homeowners develop long-term sustainable pest management programs using an Integrated Pest Management (IPM) framework. Written by Adam G. Dale and published by the Department of Entomology and Nematology.
http://edis.ifas.ufl.edu/in109
How to Chemigate Salinity-Stressed Plants with Hydrogen Peroxide to Increase Survival and Growth Rates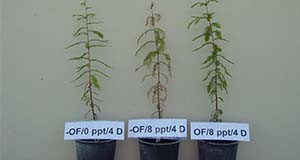 Man-made activities can induce climate change and global sea-level rise, posing threats to the survival and growth of coastal vegetation in Florida. This three-page fact sheet explains how to ensure plant survival and facilitate the growth of coastal vegetation threatened by sea-level rise and the resulting oxygen deficiencies and saline stresses. Written by Guodong Liu, Yuncong Li, Kimberly Moore, Kim Gabel, Lei Wu, and Rafael Muñoz-Carpena, and published by the Horticultural Sciences Department.
http://edis.ifas.ufl.edu/hs1280
University of Florida Potato Variety Spotlight: 'Atlantic'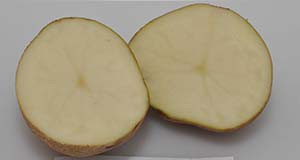 This article introduces the potato variety, 'Atlantic', which was tested in trials at the University of Florida.'Atlantic' is a white-skinned, chipping potato commonly cultivated in Florida and resealed as a white mutant of the USDA breeding program. This three-page fact sheet provides the general characteristics, season length and growth information, fertilization and planting instructions, as well as disease information for the potato variety, 'Atlantic'. Written by Rodrick Z. Mwatuwa, Christian T. Christensen, and Lincoln Zotarelli, and published by the Horticultural Sciences Department.
http://edis.ifas.ufl.edu/hs1278
Consumers' Response to "Neonic-Free" and Other Insect Pollinator Promotions on Ornamental Plants
Pollinator insects are essential to world food crop production, the economy, and the environment. Neonicotinoid (neonic) insecticides are facing intense backlash from environmental groups because the systemic protection they provide throughout the plant, including the pollen and nectar, may be injuring pollinator insects and causing their population decline. But many nursery and greenhouse growers use neonic-based pesticide control measures because they are effective, inexpensive, and cause less environmental damage than other insecticides. The increased publicity may influence consumer demand and preferences but very few studies have investigated consumer responses to neonic-free labels, and evidence suggests that many consumers have little knowledge or awareness of the issue. This 3-page fact sheet describes the results of a the study investigating how consumers' awareness of neonic insecticides influenced their preferences and purchasing behavior for plants and exploring the marketing potential of using alternate pollinator promotions (besides neonic-free) in garden center retail outlets. Written by Hayk Khachatryan and published by the Food and Resource Economics Department.
http://edis.ifas.ufl.edu/fe991
Consumer Perceptions of Lawn Fertilizer Brands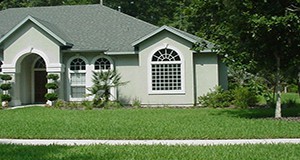 Widespread urbanization in the United States has increased the number of lawns. A healthy lawn provides many benefits, including urban heat dissipation, water quality protection, erosion control, carbon sequestration, community safety, aesthetics, and property value growth. Many homeowners maintain their healthy lawns by applying fertilizers throughout the growing season, but excess fertilizer runoff and leaching have received much attention recently because of waterway pollution and algae blooms, leading many states to place restrictions on what chemicals can be used in lawn fertilizers.
Consumers' increased environmental awareness creates a niche opportunity for the fertilizer industry to promote environmentally friendly lawn fertilizers, but in order to effectively exploit it, industry stakeholders must understand consumer purchasing behavior before expending labor, time, and money creating products for sale. The following 3-page report written by Hayk Khachatryan, Alicia Rihn, and Michael Dukes and published by the Food and Resource Economics Department covers research methodology and the existing brand awareness and selection of consumers in the lawn fertilizer industry. It also discusses homeowners' preferences for certain fertilizer attributes. Consumer awareness, selection, and attribute preferences indicate existing behavior, and understanding existing behavior assists in the development of effective marketing programs, promotional strategies, and policies.
http://edis.ifas.ufl.edu/fe990
What is EDIS?
EDIS is the Electronic Data Information Source of UF/IFAS Extension, a collection of information on topics relevant to you. More...
Author information
Additional IFAS Sites
Follow UF/IFAS on social media